High-Capacity Bunk Beds for Ultimate Comfort and Safety
When it comes to furnishing the bedroom, safety, comfort, and durability are paramount whether if be for a child, teenager, or adult guests. At Totally Home Totally Kids Furniture, our high-capacity bunk beds are more than just beds; they are a testament to quality craftsmanship. These bunk beds are engineered to provide a safe and comfortable sleeping space for all. Our bunk beds are built to last, constructed from high-quality materials that can withstand the test of time. With a focus on stability and durability, these beds ensure safety during both playtime, vacation time, and rest. The high weight capacities of these are sure to impress!
Investing in high-capacity bunk beds comes with a myriad of benefits for homeowners, their children, and guests:
Space Optimization: With the vertical design of bunk beds, you can make the most of the available room space. This is especially useful for families with limited square footage.
Cost-Efficient: Instead of purchasing two separate beds, our bunk beds offer a cost-effective solution for siblings or sleepovers, saving you money without compromising on quality.
Quality Sleep: The solid construction and comfortable mattresses ensure a good night's sleep, which is crucial for good rest and growth and development for kids.
Style and Variety: We offer a range of bunk bed designs to suit various preferences and room aesthetics. Whether your style is classic, modern, or themed, we have options to match and wow.
Best High-Capacity Bunk Beds
If you are in search of bunk beds that not only promise strength and durability but also exude style and comfort, look no further! Our curated selection of high-capacity bunk beds offers the perfect blend of robust construction and elegant design. With weight capacities ranging from 800 lb. to an impressive 2000 lb. per sleeping surface, these beds are engineered to provide unmatched safety and longevity. Whether you're upgrading your child's room, setting up a vacation home, or enhancing your bedroom, our featured products promise peace of mind and aesthetics that truly elevate your space. Explore these exceptional options and transform your sleeping experience.
Tinley Park 2000 lb. Queen over Queen Bunk Bed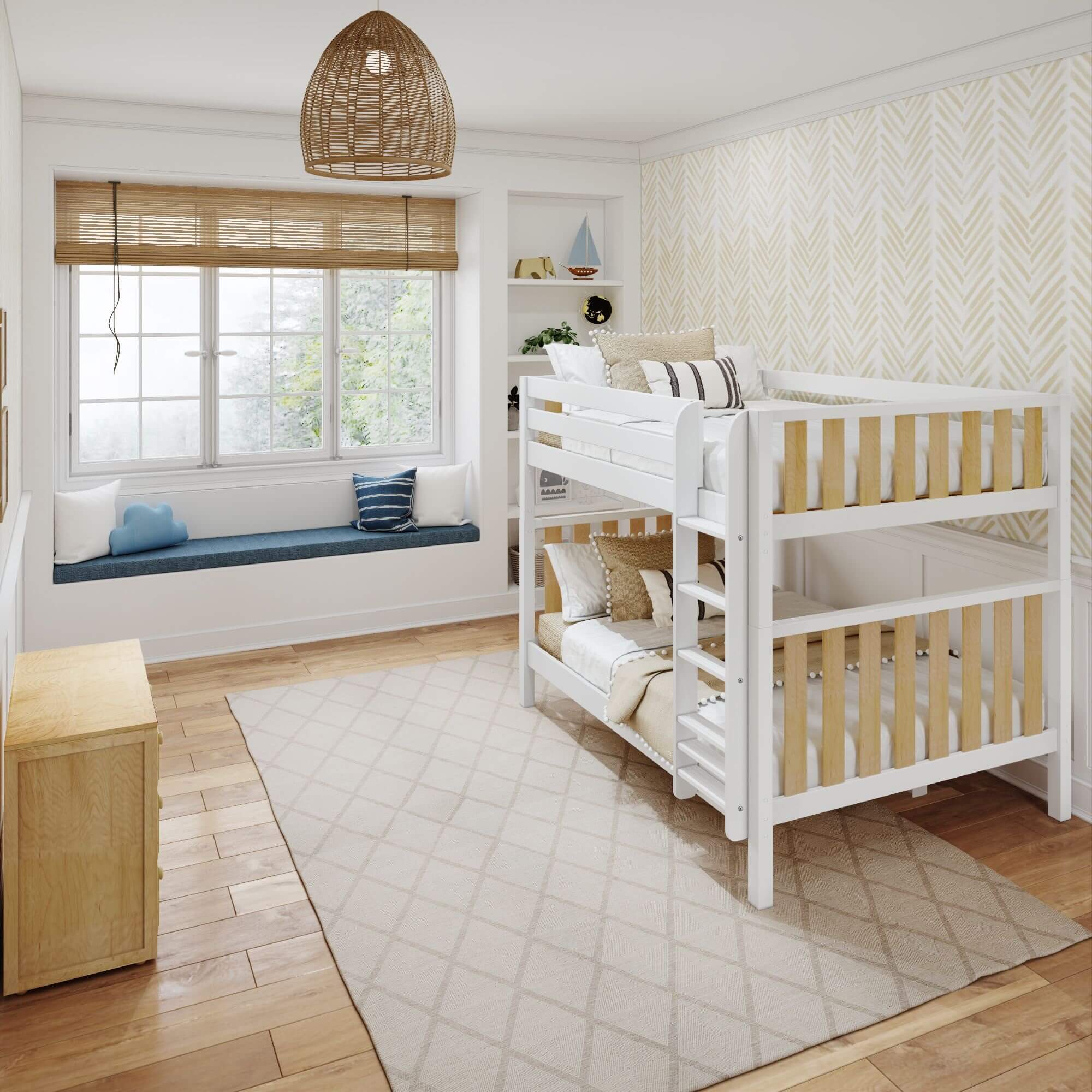 You'll definitely enjoy unmatched strength and style with our modern Tinley Park queen bunk bed. Each sleeping surface holds an impressive 2000 lb. of weight, ensuring both safety and durability. This spacious bunk bed is perfect for those seeking a queen-sized sleeping solution. The Tinley Park is one of our newest styles.
Washburn 800 lb. Bunk Beds
Our Washburn natural adult bunk beds are designed with strength and comfort in mind. Available in twin over twin, twin over full, and full over full sizes, these bunk beds offer a weight capacity of 800 lb. per sleeping surface. Upgrade your sleeping arrangements with these stylish and robust bunk beds.
Penn 2000 lb. Queen over Queen Bunk Bed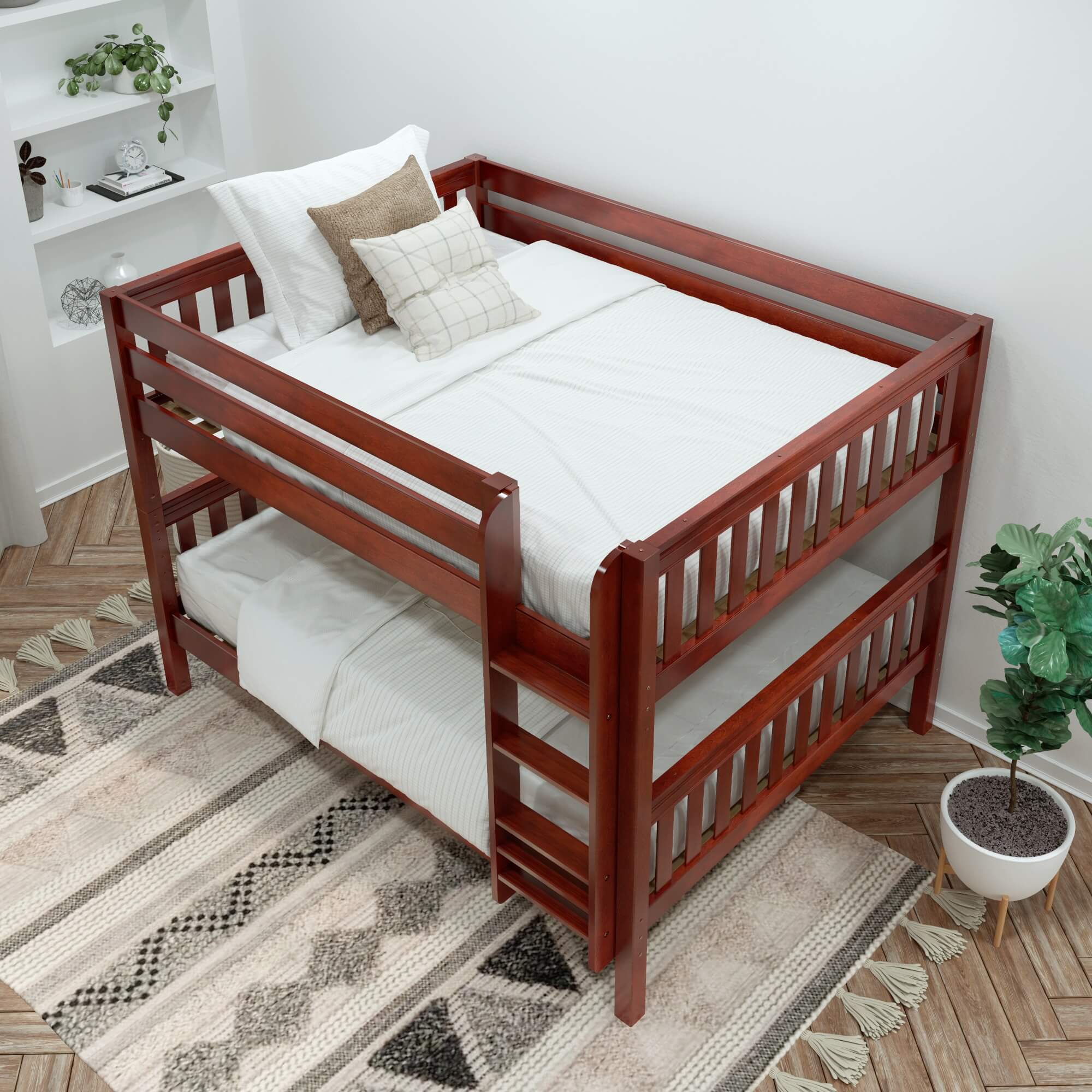 The Penn low chestnut queen bunk bed combines elegance with durability. With a weight capacity of 2000 lb. per sleeping surface, it's perfect for those seeking both strength and style. Transform your bedroom with this impressive bunk bed with a lower height than our Tinley Park.
Bellamy 800 lb. Queen over Queen Bunk Bed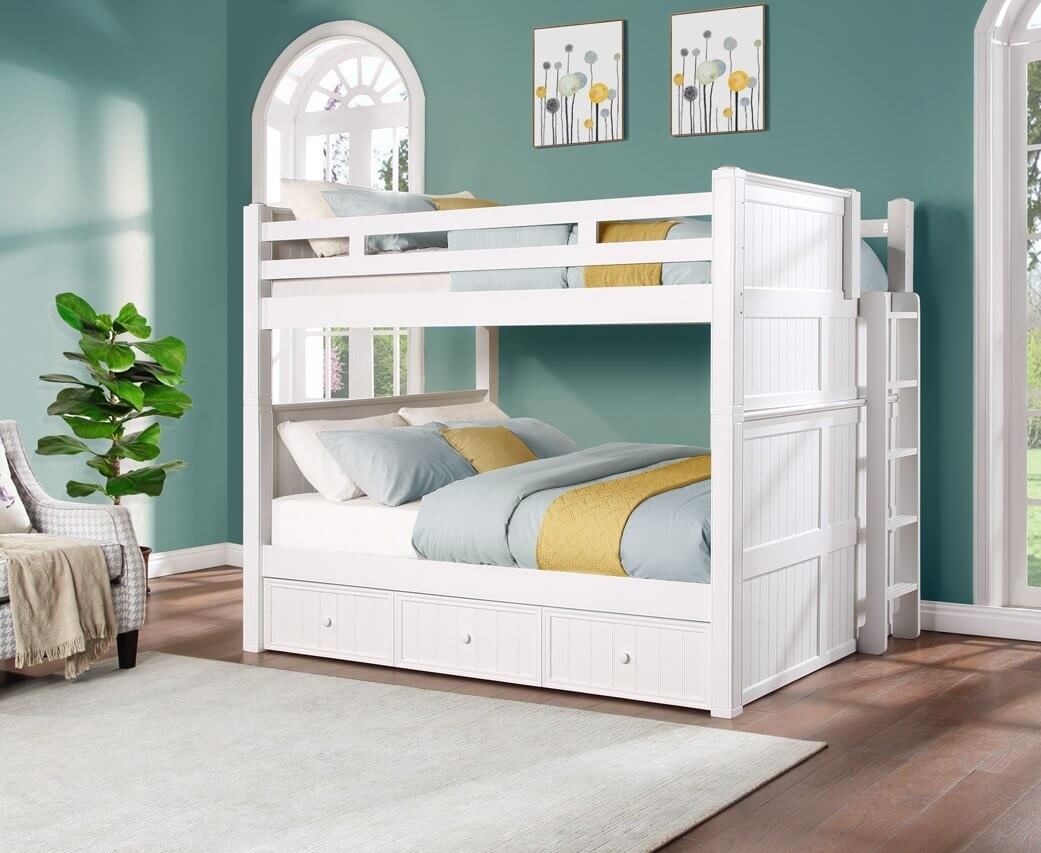 Acquire the Bellamy queen bunk bed, created for those who demand style and quality. It's the ideal option for a cozy and sturdy sleep with an 800 lb weight capacity on each sleeping surface. This classy bunk bed will enhance the design of your bedroom.
Kallista 800 lb. Full XL over Queen Bunk Bed
The Kallista dual-height full over queen bunk bed offers superior comfort and strength. With an 800 lb. weight capacity on each sleeping surface, it's ideal for those looking for a versatile sleeping solution. Upgrade your bedroom with this space-saving bunk bed.
Westlake 800 lb. Twin XL over Queen Bunk Bed
The Westlake dual-height twin XL over queen bunk bed maximizes your bedroom space. With an 800 lb. weight capacity on each sleeping surface, it's the perfect choice for those seeking functionality and style. Transform your room with this innovative bunk bed.
Our products offer a range of options to suit different needs, whether it's strength, style, or space optimization. Explore our selection to find the perfect high-capacity bunk bed for your requirements!
Recent Posts
Bunk Bed Vs. Loft Bed: What's The Difference? When it comes to furnishing smaller spaces, parti …

The holiday season is a time for joy, togetherness, and reuniting with loved ones. There is an un …

High-Capacity Bunk Beds for Ultimate Comfort and Safety When it comes to furnishing the bedroom, …