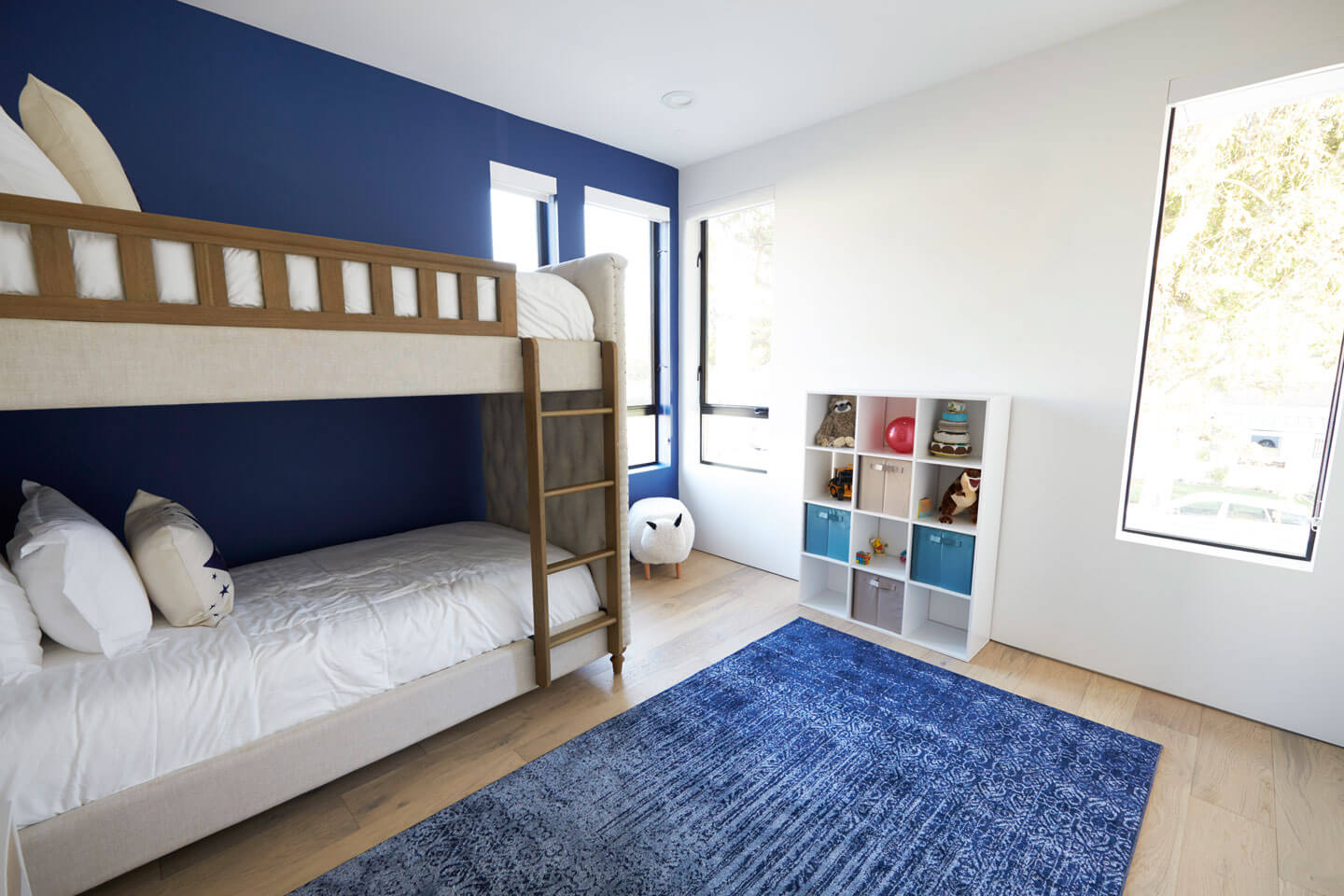 Bunk beds aren't just for children's sleepovers or summer camps. Modern, well-designed adult bunk beds have so much to offer. They are a favorite among Airbnb hosts, vacation home renters, college students, and those living in small spaces. However, selecting the right size will go a long way to guarantee comfort and practicality. Here's your guide to selecting the perfect adult bunk bed size.
Standard Bunk Bed Sizes
Knowing the typical sizes of bunk beds can help you decide what will best fit your room. The most common adult bunk bed types and sizes include:
Twin over Twin – This style has two twin-sized mattresses, one atop the other. Each mattress measures roughly 39 inches by 75 inches. It's perfect if room space is limited and occupants are of average height.
Twin over Full – This design swings towards versatility. It features a twin-sized mattress on top and a full-sized one below, measuring about 54 inches by 75 inches. It's suited for two or three users, perhaps a couple or siblings sharing a room.
Full over Full – For those who need more space, this option gives you two full-sized beds stacked one on top of the other. It's ideal if you can afford to allocate more space for your bunks, and you have adults or large teens using the beds.
Full over Queen – This bunk bed features an extra long full-sized bed, measuring 54 inches by 80 inches, on top and a queen-sized bed below, that measures 60 inches by 80 inches. This bed can fit two or more people comfortably. This is a great option for those who often host a sleepover.
Queen over Queen – If you have a big space and wish for extensive sleeping areas, this is a suitable option. The queen mattresses, each about 60 inches by 80 inches, accommodate taller or larger individuals comfortably.
Your Space
One of the most crucial steps in selecting a bunk bed is understanding your space, as arbitrary buying may lead to costly mistakes. Rooms vary in size, shape, height, and even the placement of windows, doors, and accessories. All of these factors influence which adult bunk bed will fit comfortably.
Be meticulous. Measure the length, width, and height of the room. Consider the potential location of ladders or stairs onto upper bunks, walking paths through the space, and the ability to access closets, windows, or other furniture in the room. Also, bear in mind the height of the lower and upper bunks. There should be sufficient space above and below them for easy access and movement. Don't forget to consider any ceiling fans!
If your goal is to maximize sleeping space per square footage, bunk bed configurations with matching sizes top to bottom (Twin over Twin, Full over Full, etc.) are clearly the way to go. However, bunk bed configurations with a smaller mattress for the top bunk (Twin over Full or Full over Queen, for example) may make a room feel a little bigger by freeing up valuable vertical living space. Additionally, this kind of configuration makes it easier for occupants of the lower bunk to get in and out of the bed.
Your Intended Users
Consider your potential users while deciding on an adult bunk bed size. The needs of children, teenagers, and adults differ enormously, as do those of singles, couples, or seniors.
For instance, a twin-over-twin is an excellent option when your dwellers are of average height. On the other hand, a twin-over-full, full-over-full, or even queen-over-queen is more suitable if your users desire more space, particularly couples or individuals who toss and turn a lot.
When thinking about weight, remember there's always a manufacturer's suggested weight limit on both the top and bottom bunks. Different sizes, construction, and materials will have different weight capacities. Always check the weight limits in your preferred style before buying. The good news is that you can get a very solid piece of furniture that is wood, metal, or a combination of materials. Also please note that all the bunk beds that Totally Home and Totally Kids Furniture sells meet or exceed Federal Law and CSPC guidlines for bunk beds.
Bed Accessibility
It's important to consider the bed's accessibility for the people who will be sleeping in it. For example, you may consider stairs for top bunk access for elderly people or those with mobility issues. This would make for easier climbing than just a standard ladder. Or you might want to suggest using only the lower bunk or even a trundle bed as the best option for those guests who have a climbing concern.
Advantages of Modular & Customizable Bunk Beds
Should none of the commercial options feel right, there's always the alternative of customizable or modular bunk beds. They let you select dimensions based on your requirements and the room's specifics. This option, though potentially more expensive and time-consuming, offers tailor-made solutions, ensuring that your bunk bed fits perfectly into your space.
Moreover, many modular designs can separate into individual beds if your living situation changes. This feature increases your furniture's longevity, again, potentially justifying a higher initial investment. Please note this is not something limited to only modular or custom designs as many of our bunk beds can separate into individual beds if needed. Be sure and check with our expert sales team if that is something you are looking for.
Recent Posts
Every Airbnb, VRBO, vacation home host dreams of higher bookings at better rates. What if you …

Bunk beds aren't just for children's sleepovers or summer camps. Modern, well-designed adul …