The holiday season is a time for joy, togetherness, and reuniting with loved ones. There is an undeniable magic in the air. The glow of festive lights, a warm fire, and shared moments with loved ones make for wonderful memories. It can also mean a full house and a need for extra sleeping accomodations. Whether you're welcoming friends and family for a few days or hosting a grand family reunion, accommodating everyone comfortably can be a challenge. This is where bunk beds, including triple and quadruple bunk beds, can help your home or space be that haven of comfort and connection.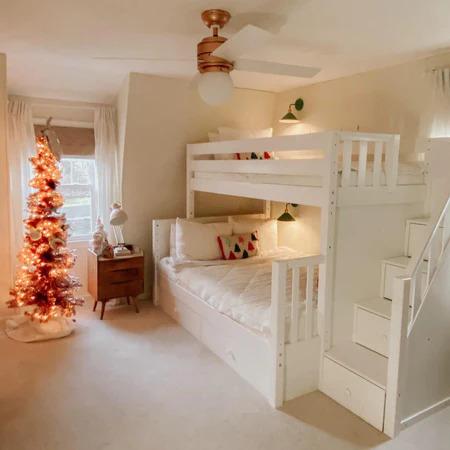 Maximizing Space:

When space is limited, bunk beds are your best friend. They stack vertically, allowing you to sleep more people without taking up additional floor space. This is particularly helpful during the holiday season, when the guest list expands, and every square inch of your home becomes precious.

Creating a Sense of Togetherness:

One of the most heartwarming aspects of the holidays is the sense of togetherness. Bunk beds foster this feeling by allowing family members or friends to share a room and even a bed. Late-night chats, bedtime stories, and laughter-filled sleepovers become cherished holiday memories. A study in the Journal of Family Psychology ( https://psycnet.apa.org/record/2015-17271-001) suggests that shared sleeping arrangements can strengthen emotional bonds and enhance the feeling of connection, but we know that intuitively.

Triple and Quadruple Bunks Beds: Efficiency, Comfort, and Fun

Triple bunk beds are a fantastic option if you need to accommodate more people while still ensuring comfort. Quadruple bunk beds are a fun and functional choice for even more sleeping capacity. Many models come with storage solutions and options built into the design or available as an accessory, making it easy for guests to keep their belongings organized. It's like having a sleepover party every night, and many guests absolutely love it.

Guests Love the Adventure

For guests, sleeping on bunk beds can be an adventure, especially for children. It's a unique experience that can add an extra layer of excitement to their holiday visit. They can create lasting memories as they fortify their sleeping quarters and wake up to friends and family. Also, they can sleep in while the adults converse over coffee or hang out on the porch. The point being, they have a built in place to hang out.

Versatile Design for Your Style

Bunk beds come in various designs and finishes, from traditional wooden frames to modern metal structures. You can easily find a style that complements your home's decor. Plus, you can customize the bedding with festive linens, cozy blankets, and decorative pillows to create a welcoming, holiday-inspired space. If you need inspiration, just ask our team!
As the excitement of the holiday season approaches, the need for additional sleeping space shouldn't be a source of stress. Bunk beds, including triple and quadruple varieties, offer a practical and stylish solution to this common challenge. Through their space-maximizing design, fostering of togetherness, cost-effectiveness, versatile configurations, and chic design, bunk beds transform your home into a welcoming haven where cherished holiday memories are made. Embrace the joy of the season, and let the bunk beds elevate your hospitality to new heights. Let our team help you with the perfect beds your holiday space.
Recent Posts
Bunk Bed Vs. Loft Bed: What's The Difference? When it comes to furnishing smaller spaces, parti …

The holiday season is a time for joy, togetherness, and reuniting with loved ones. There is an un …

High-Capacity Bunk Beds for Ultimate Comfort and Safety When it comes to furnishing the bedroom, …